I have over 40 years of guitar teaching experience and can take you from being an intermediate player to accomplished guitarist if you are willing to work regularly on your playing.
All guitarists (regardless of level) want to play better and by setting realistic goals that suit each individual student, together we can achieve your goals in the shortest possible time.
I always ask students why they want to learn and the answers allow me to formulate what is needed to facilitate each student reaching that goal.
Some questions for you
Are you someone who feels they are at a dead end with their playing?
Do you feel you are in a rut?
Are you bored with your 7 song repertoire?
Do you use the same strum for every song?
Do you feel you need more confidence when you play with others?
Is your chord vocabulary limited? (Most decent guitar players answer yes to this question!)
Are you about to start in a big band at school or community band level and don't know how to read a chart properly?
Are you auditioning for University or school band and don't
know
how to
figure
out the
requirements?
Do you want a better understanding of music theory and harmony?
Do you want to read music well?
Do you need to know the fingerboard more thoroughly?
If you answered 'yes' to any of these questions I know I can help you if you are willing to follow through with what we do in lessons.
Some answers for you
The most common issue for most players who say 'yes' to the questions above is that the basic skills of playing have been a bit hit and miss. We can remedy that with a dedicated practice/study time each day and the correct materials and training. I can formulate a curriculum based on your musical goals that will help you to get there as fast as possible. I use materials that have been prepared and presented over the last 35 years to hundreds of guitarists that are specific and goal oriented.
What I can do for you
I can take you through:
- Exams ( ANZCA ) Modern Guitar Syllabus
- Prepare you for high school music extension performances
- Tertiary auditions
- Help you with songwriting
- Help you if you are in a rut with your playing
- Draw out your inherent musicality
- Teach you improvisation - if you are studying Improvisation with me, I will provide free access to backing tracks relevant to your study
- Playing in a band or solo
- Jazz, Blues Classical, Rock, Country, Funk, 'campfire' guitar
- Accompanying Vocals
- Music Reading ; chord chart reading building chord vocabulary
- Technique ; Fingerstyle
- acoustic, electric, mandolin or banjo (yes I own one of those, but don't spread that around! )
- Most importantly, we work on this together to reach your musical goals, growing in confidence in your music making.
If you've been playing for a while and have 'guitarists block'
contact me
OR FILL IN THE
APPLICATION FORM
BELOW
and we'll get things rolling for you.
Take a look at this Beginners Guide to Guitar. Easy Guide
FEES
Lessons are $35 per half hour and $70 per hour. These are payable at least one month in advance. You may pay for a full term if you wish. There is also a materials fee of $45 per term (or pro rata) to cover the cost of teaching resources including most books, (some specialist texts are not covered in this fee), video lessons, printing handouts and time spent transcribing music for students. This fee does not cover the cost of strings, picks or other accessories.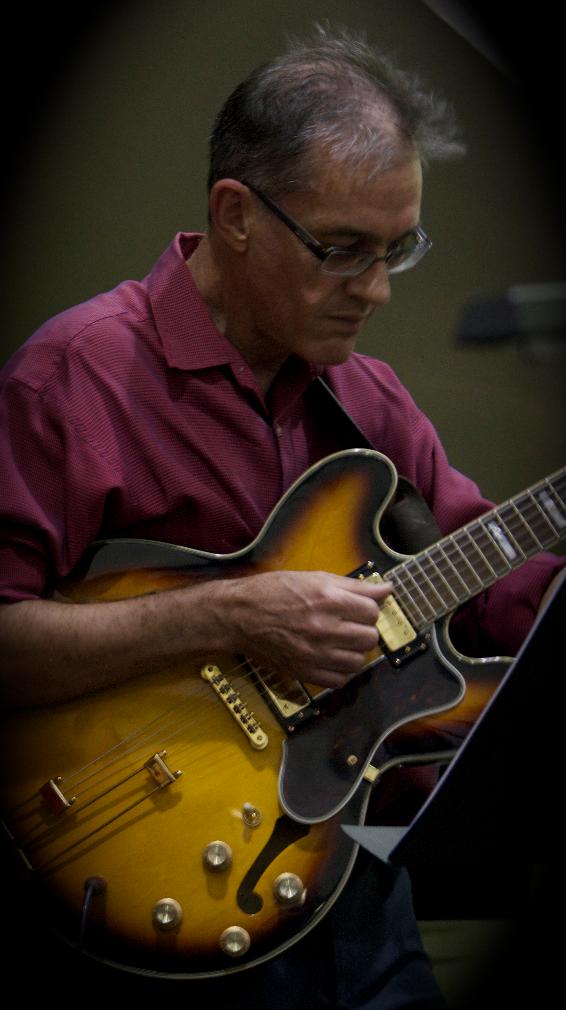 T
TUITION GUIDELINES
1. Fees are payable 1 month in advance.
2. Notify the teacher as soon as you are able when you are not able to make the lesson. No credit or make up lesson will be available if notice is received after the starting time for the lesson.
3. Please give 2 weeks notice if you intend cancelling lessons.
4. Don't have lessons on guitar from 2 different teachers at the same time. This never works and causes frustration for both teachers and student alike.
5.Lessons will be offered based on your first half hour lesson/audition. My studio is offering lessons to intermediate/advanced students only and I will suggest some suitable tuition options if I am unable to include you in my teaching roster.
What others have said about lessons with Andrew
"Andrew Hobler was my first guitar teacher and I studied with him for three and a half years before beginning jazz guitar at the Queensland Conservatorium of Music. During my time with Andrew, we covered rock, pop, musical theatre, funk, Latin, jazz and classical guitar styles. Andrew's experience in many genres and friendly attitude creates a supportive learning environment for anyone from beginners to advanced players. I was fortunate enough to be given the opportunity to play the Gold Coast Arts Centre's production of Jesus Christ Superstar in 2014 with Andrew, and learned a great deal regarding industry and musical skills. Being alongside someone with Andrew's professionalism and experience made slotting into the band much smoother. I would recommend Andrew to anyone wanting to learn guitar and I am sure he will direct your playing from where you are to where you want to be".
Jono Fraser, Queensland Conservatorium of Music Jazz student
Go to the resources page to find backing tracks, course materials and other stuff!