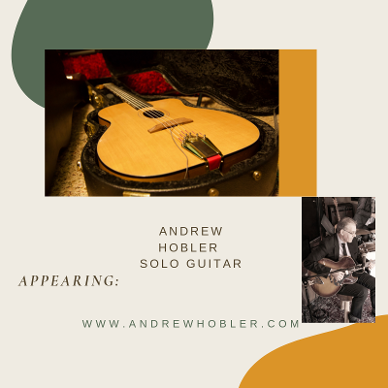 Keep checking here to stay updated on my latest gigs!
Duos, Trio and Band links
Present Company Included (Jazz Trio)
Our repertoire covers classic Django pieces such as Nuages, Minor Swing and Sweet Georgia Brown. Audiences love the repertoire as we blend Latin songs, James Taylor hits, modern Gypsy jazz, originals, Beatles, Willie Nelson songs, hits from The Eagles, jazz standards, George Benson and more! The trio features Andrew Hobler on guitar/vocals, Peter Blowes on bass/vocals and Matthew Brown on drums/guitar and vocals. The three musicians have vast experience playing on stages all over Australia and internationally in a wide variety of genres. Present Company Included gives them a chance to improvise and choose repertoire that they rarely get a chance to play. Website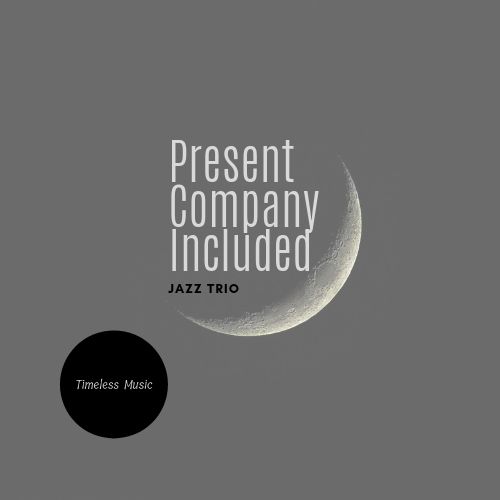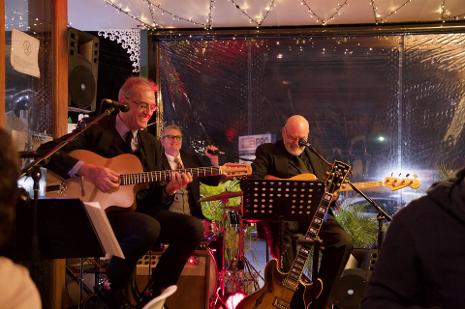 Vanessa and The Company
Vanessa's smooth vocal style delivered with passion and flair is fused with Andrew Hobler's tasteful and sensitive guitar accompaniment skills to bring you music from the 1920's right to up to modern dance hits.
With a wide repertoire for every occasion, Vanessa and The Company are the perfect duo for your wedding, corporate event or any venue. Here is the link for Vanessa.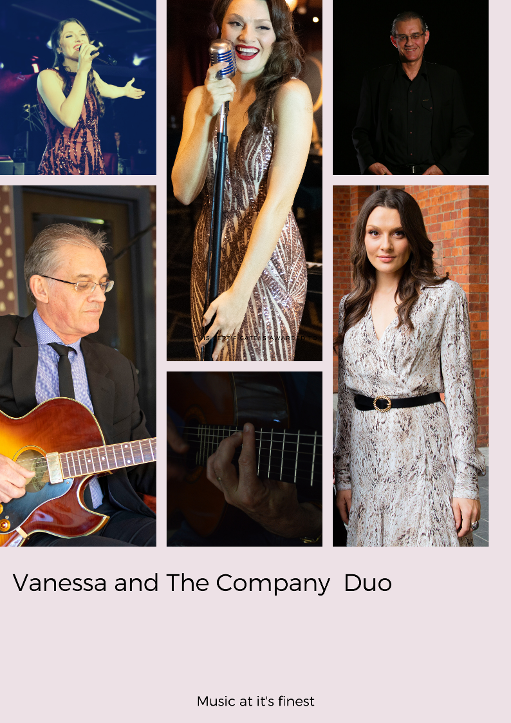 Those Cool Guys
When you put
Paul Mulqueen

and

Andrew Hobler

together, well… you get Those Cool Guys!
They play everything that's cool from the 50's to current tracks and yes they even play some things that just aren't cool!
Andrew is a freelance guitarist working sessions with and supporting many Australian and international artists.
Paul has been support act for major touring artists and has worked in both the UK and USA.
Best of all is their sense of humour! If you get the chance to see Those Cool Guys don't... miss them!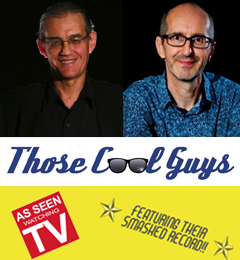 December
5th Dec Private Function on Solo Guitar
13th Dec Private CORPORATE Function 'Vanessa and The Company'
I have worked in a wide variety of venues, bands and styles and I am available for almost any gig, can read well and play many styles. Chart reading or 'lugging' no problem!
READ WHAT OTHERS HAVE SAID ABOUT WORKING WITH ANDREW.
"When I heard Andrew play guitar I immediately had the feeling that this was a musician that had really worked at and perfected his craft, his melodic sense as a soloist was beautiful and his tone refined and warm. Andrew is obviously a servant of the music and his playing reflects a sense of humility and excitement that makes everyone around him feel good." - David Galea: bassist and composer - https://www.davidgaleamusic.com/
"Andrew is one of my favourite guitarists in South East Queensland. Accomplished, seasoned and well respected. Sought after for studio sessions, Big Band arrangements and just as comfortable playing in a orchestra or to swing it in a blues band. True master arranger, writer and performer. I'm honoured to play with such a professional...5 stars" - Frazer Goodman -http://frazergoodman.blogspot.com
"Andrew is a valuable asset to every musical context he is involved in. From music theatre to jazz ensemble, Andrew displays a variety of virtuosic finesse in a range of styles and genres, along with the ability to read anything thrown his way" - James Whiting Percussionist - https://www.jameswhiting.com.au/
"Andrew Hobler is an exemplary musician and guitarist. Andrew seamlessly moves between rock, contemporary, jazz and classical styles with ease. In our recent production of Jesus Christ Superstar, Andrew proved once again that he is a bandsman able to work into any situation with ease. Having him play on the show was inspirational."- Jeremy Williamson Director of Performing Arts, Hillcrest Christian College, Gold Coast
"I recently had the pleasure of working with Andrew on a production of Jesus Christ Superstar at the Gold Coast Arts Centre. His guitar playing and musicianship are of an extremely high professional standard and his easy genuine manner was a welcome addition in a show orchestral setting which can sometimes test patience and musical sanity because of repetition. I would be delighted to work with him again, and have no hesitation recommending him highly".- David Piper, Musical Director.
Sign up and get gig updates.